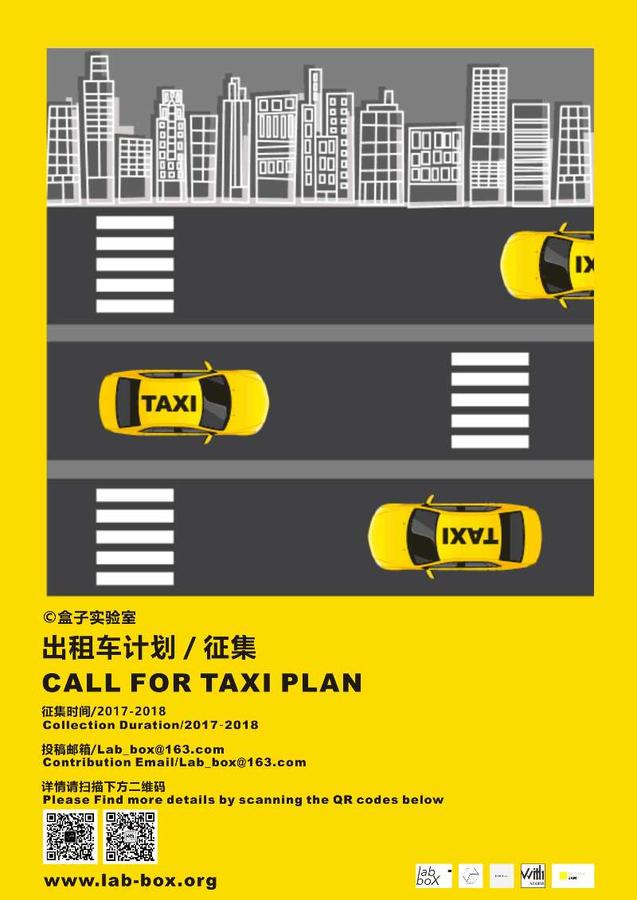 Taxi
Plan
A journey is a witness of the past and the future, a witness of time. And perhaps time could exist in our own consciousness, like an old compass. So can we ride time over the sky? Even a blinking moment of rest allows us to enjoy the scenery along the journey; a short conversation ease us perfectly; closed eyes open the door of a wonderful dream. Although all of these above seems to be beginnings of an escape from the reality, they are also beginnings of a return from the reality. Might we be able to control the time, merging with it and making it all real in an eternal manner?
The "Taxi Plan", initiated by the LAB-BOX, is calling for creative art works from taxi passengers around the world. This project aims to broaden the boundaries of the subjects of art creations and to inspire the creation of artists in a moving environment (taxi). The organizer believes this is a great opportunity for artists to communicate in their own universal art language across the world. If you are willing to convert your riding time in a taxi to an opportunity to create your own unique art masterpieces and to share your thoughts to all (either in audio or video), please do not hesitate to send us your great works and we would be happy to pay for your taxi bill!
Collecting Time :
2017-2018
Enrollment Eligibility:
DiDi、Uber、Addison Lee Passengers, Artists and Art Lovers
Application:
The applicants should send all the documents to the mailbox:
lab_box@163.com(The title of the email should note: "Taxi Plan")
1: Your Chinese and English resume: including personal information( Personal homepage,education, awards, exhibitions etc…)
2. The descriptions of your art works/self descriptions more than 300 words
3. audio file and video file, the screenshots of the invoices and rides
Requirements:
Art works must be conducted during the riding time of a taxi and only audio or video forms are accepted. During submission, the artist needs to provide (1) The work document, (2) An introduction of the work, (3) The taxi receipt in paper or as a screenshots for a reimbursement certificate (within 5 km), and (4) A resume.
We call for works for a long period of time and every half year is a session. Qualified applicants will hear back from us. The qualified list will be posted on our website and WSPACE platform (www.lab-box.org). We will then exhibit the outstanding works as well as getting broadcast form media, depending on the actual space and number of qualified works.
Exhibition Locations:
(Beijing, Zhengzhou, Shenzhen, London, France and Wuhan)